2020 m. vasario 14d.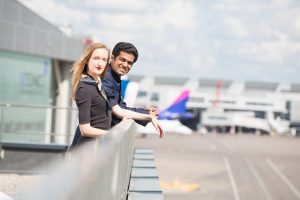 An annual survey of Aviation Management graduates of Kazimieras Simonavičius University revealed that all graduates work in the aviation industry. Majority of the graduates started working in their specialty during their studies, the rest of them got job within a month after graduation.
Aviation Management graduates work for companies such as GetJet Airlines, Wizz Air, Avia Solutions Group, Avion Express and BGS.
These employability indicators show that Aviation Management students are well prepared for work in the aviation industry, which requires specific knowledge and skills. Graduates are successful in a variety of sectors such as aviation security, communications, sales, and human resources in wide range of companies including airports, airlines, aircraft service centres and international airlines.
Deimantė Žilinskienė, Director of Kazimieras Simonavičius University Business School said, "There are several key aspects to the proper preparation of students for employment in the aviation industry right after graduation; close cooperation with business sector, internationalization (KSU students are taught by internationally renowned aviation experts – practitioners), and a multicultural environment specific to aviation companies. We also strive for bachelor theses to be focused on real aviation organization performance and process improvement, which allows the student to have deeper understating of the industry, improve expertise, develop analytical and critical thinking".
The Aviation Management graduate's employment rates also reflect the fact that the demand for Aviation Management professionals in the industry is very high and, it will keep growing according to various forecasts.
BACK