The KSU community expresses its unconditional and unanimous support for the Ukrainian nation. In the current dire circumstances the KSU announces its readiness to accept 100 students from Ukraine granting them a tuition waiver covering the full price of studies.
The students will be admitted to the KSU study programmes that are currently offered in the English language: Aviation Management and Entrepreneurship and Management (Bachelor studies) and European Union Law (Master studies).
Tuition Waiver Requirements:
Tuition Waiver is granted solely to the students of Ukrainian higher education institutions, fleeing from the war in Ukraine and wishing to continue their studies in Lithuania;
The students should be able to study in the English language;
The applicants have to fill the Application Form *; (*The application form may also be filled out at the KSU, address: Dariaus ir Girėno str. 21, room 203. Upon arrival please contact priemimas@ksu.lt to book a time.)
The applicant has to participate in an interview with KSU Admission Committee.
For more information please contact KSU study coordinator Monika Kukšaitė – Kraujalienė (consultations are provided in English or Lithuanian). priemimas@ksu.lt + 370 618 08894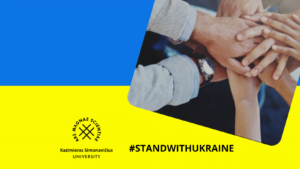 The academic community of Kazimieras Simonavičius University expresses its solidarity with Lithuanian higher education institutions and is ready to unconditionally support people of Ukraine in this difficult time.
We remain concerned about our students, their families and partners in Ukraine and will make every effort to provide timely legal and psychological assistance and provide 100 scholarships to cover the costs of continuing their studies for those students whose normal lives have been disrupted.
We strongly believe that our solidarity and support will bring hope and strength in the fight for freedom!