2020 m. liepos 03d.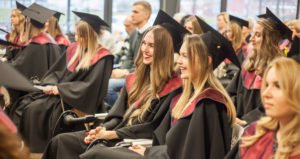 We kindly invite you to participate in the Bachelor's and Master's degree awarding ceremony of Kazimieras Simonavičius University (KSU), which will take place on 3rd of July at 1 p.m. at the University (Dariaus ir Girėno st. 21, Vilnius).
During the ceremony, degrees will be awarded to graduates of the bachelor's programs in Creative and Cultural Industries, Fashion Industries, Aviation Management, Political Communication and Journalism.
Master's degrees will be awarded to graduates of the Law and Organizational Innovation and Management programs.
We recommend KSU graduates to arrive an hour in advance so that you can dress up in an academic gown, sign the diploma register, and sit comfortably in the 1st-floor hall.
More information about the Gown: studijos@ksu.lt
Attention: guests will be able to park their cars on Dariaus ir Girėno str. 25 in the parking lot.
BACK