2016 m. rugsėjo 06d.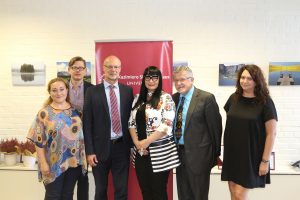 The representatives of Kazimieras Simonavičius University and Kujawy and Pomorze University in Bydgoszcz (Poland) met in Vilnius on the 6th of September. KSU Rector prof. dr. Arūnas Augustinaitis, Vice-Rector Andrius Tekorius, director of Creative Society and Economy Institute assoc. prof. dr. Remigijus Venckus, international coordinator Vaiva-Poškaitė Tomaševič, Dean of Faculty of Social Sciences and Modern Languages of Kujawy and Pomorze University in Bydgoszcz prof. Monika Jaworska-Witkowska, prof. Lech Witkowski, and dr. Marta Małecka participated in the meeting. Cooperation opportunities in science and studies were discussed during the meeting.
Kazimieras Simonavičius University, Kujawy and Pomorze University in Bydgoszcz, Kyrgyz National University named after J. Balasygan and Romanian – Germanian University of Sibiu are the memebers of International Consortium of Rectors and Presidents of Universities and Higher Education Institutions. The meeting held in KSU this week is a a part of long-term and consistant cooperation.
BACK