2021 m. gruodžio 02d.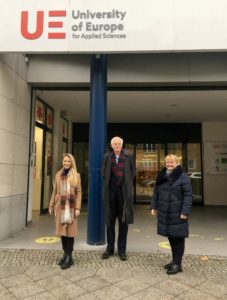 Last week Deimantė Žilinskienė, Head of KSU Business Innovation School and Jurgita Gruodienė, Head of International Studies and Development Office visited the University of Europe for Applied Sciences (UE) in Berlin, Germany.
During the visit meetings were held with the Rector of UE University prof. dr. Maurits van Rooijen, Vice-Rector Prof. dr. Thomas Noller, Head of International Affairs Philine van der Leeuw, Director of Business Development Wassim El Kadhi,  Business Development Manager Nilesh Warokar and Vice Dean and Head of Business Programs prof. dr. Daniel Frederik Heuermann.
During the meetings the possibilities of starting a double Bachelor's degree diploma in Business Management and in Entrepreneurship and Management were discussed. Admission to these study programs is planned to take place from the spring and autumn semesters of 2022. Also were discussed  further cooperation opportunities in the fields of teaching, student internships, study subjects and research projects.
BACK