2022 m. vasario 25d.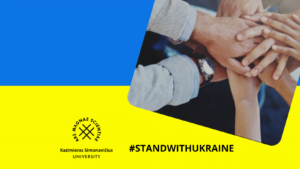 The academic community of Kazimieras Simonavičius University expresses its solidarity with Lithuanian higher education institutions and is ready to unconditionally support people of Ukraine in this difficult time.
We remain concerned about our students, their families and partners in Ukraine and will make every effort to provide timely legal and psychological assistance and provide 100 scholarships to cover the costs of continuing their studies for those students whose normal lives have been disrupted.
We strongly believe that our solidarity and support will bring hope and strength in the fight for freedom!
BACK