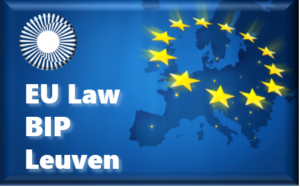 Career in law area is much more than applying national legal basis into practice. Nowadays it's critical to have a comprehensive understanding about international law, and especially EU policy trends. Lectures, workshops and debates on EU institutions & Enforcement of EU Law will be organised in Erasmus+ Blended Intensive Programme "Enhancing legal understanding of the EU Institutions and their functioning" which is organised by Leuven University of Applied Sciences (Leuven, Belgium) in partnership with Kazimieras Simonavicius Universiry, University of Lumsa (Italy), University of Alba Julia (Romania) and University of Villanueva (Spain). Visit to European Parliament in Brussels and other social / cultural activities are planned as well.
On-site activities will take place on 4-8 March 2024 at Leuven University of Applied Sciences (Belgium). Also, few online meetings in February 2024 will be organised for the preparation for intensive programme in Belgium. Participation in these online meetings is mandatory part of the programme. Students, who successfully pass the whole programme, will be awarded 3 ECTS which will be recognised as part of their study programme at KSU.
Participation in the programme is free of charge. Selected students will receive Erasmus+ scholarship of EUR 553 for the trip and accommodation.
Students of Law (1st-4th year of studies) and EU Law (1st year of studies) are invited to take part in this unique programme. Only 4 places are available for KSU students.
Interested? Submit the Application form till 30 November by e-mail international@ksu.lt.