2022 m. vasario 09d.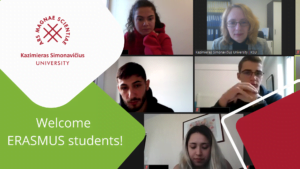 We are happy to host 29 Erasmus exchange students from Spain, Italy, France, and Turkey in the Spring semester of 2022. As every year, the Orientation Week was organized for students who came to Kazimieras Simonavičius University from abroad, during which the students got acquainted with the University and the study process, lecturers and each other.
This year, activities for international students were organized remotely, but this did not diminish the joy of getting to know the University and present their home countries. We hope that all students will return on site soon and meet their colleagues live!
BACK