2021 m. gruodžio 10d.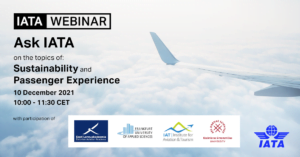 KSU Aviation management students are invited to take part in an on-line event ASK IATA: Sustainability and Passenger Experience. The event is happening second year in a row and this time it will take place on the 10th of December.
International Air Transport Association (IATA) experts from different industry areas will answer students' questions about aviation sustainability as well as will talk about passenger experience management and IATA activities from inside during the event.
Head of Business Innovations School Deimantė Žilinksiatė: "We are happy to organise this event second year in a row with our wonderful partners IATA, Estonian aviation academy and Frankfurt Aviation and Tourism Institute. The last year's event was a success among our students and this year we will offer exclusive meet ups with experts from all over the world and discussions about latest topics of sustainability and passenger experience. We are hoping for an active participation amongst our students as well as alumni!
In order to get more information about the event and/or register to participate please contact KSU Head of Business Innovations School Deimantė Žilinksiatė deimante.zilinskaite@ksu.lt
BACK