2020 m. kovo 18d.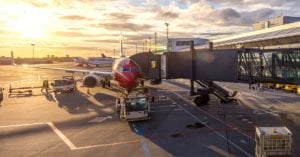 Since April 1st, two Aviation Management online study modules open up for external students. You can study the modules together with present KSU bachelor's students.
Every module consists of seven online lectures, broadcasted live in the evenings, and two individual consultations.
Those who pass the module exam will be awarded with ECTS credits and a certificate of approval. Later, when student enrolling in Kazimieras Simonavičius Bachelor's degree program in Aviation Management, the module will be credited and the tuition fee will decrease accordingly.
Modules Suggested:
Assoc. Prof. Dr. Konstantinos Kalligiannis
6 ECTS Credits
Cross – Cultural Management in Aviation
Lecturer Jack Romero
5 ECTS Credits
Aviation Policy
Aviation Policy module is aimed for the students to understand how the historical background has created  the current range of national and international airline and airport policy patterns, how airlines are organised to influence and respond to Government Policy and what are the areas of policy development that may occur in the near future.
Assoc. Prof. Dr. Konstantinos Kalligiannis is an internationally recognized aviation expert and consultant and the head of the Bachelor's Degree Program in Aviation Management at Kazimieras Simonavičius University. Dr. Kalligiannis played a key role in major and challenging airport projects: the bid development for the Greek Regional Airports' privatization (AKTOR Concessions), the National Aviation Policy & White Paper development for the Hellenic Ministry of Transport, the Airport Operations Manual (AOM) update for Pafos International Airport, Air traffic forecasts development (EC Harris) and others.
Dr. Kalligiannis delivers airport training courses for Abu Dhabi International Airport's Gulf Center for Aviation Studies (GCAS), Sudan Airports, Holding Company, Muscat and Salalah Airports (OAMC) and Riyadh International Airport.
Cross – Cultural Management in Aviation
The objectives for the Cross – Cultural Management module are for the students to get familiar with the  intercultural area and how to manage all the challenges in multicultural fields. The module focuses on the impact of cultural background on individuals, organizations and management; on the dimensions which discriminate national cultures, and on cross-cultural interactions.
Jack Romero has more than 15 years experience in aviation industry and aviation entrepreneurship. Currently he is a Business Mentor and University lecturer at Leeds University Business School and lecturer in Aviation Management study programme at Kazimieras Simonavicius University.
Starting in 1974 at Heathrow Airport, Jack's company British Mediterranean Airways (BMED) became one of the most successful franchise partners of British Airways, gaining the prestigious Queen's Award For Business Enterprise in 2004. BMED was sold to BMI (owned by Lufthansa) in 2007 for £30 million, and in 2011 British Airways bought BMI/BMED for over £175 million.
The registration closes on March 30th.
Registration to "Aviation Policy"
Registration to "Intercultural Management in Aviation Industry"
Language: English
Price: 350 Eur per module
Duration: from April 1st till May 15th (online lectures)
Module exams: will be held at the end of May – early June at Kazimieras Simonavičius University, Vilnius (due to quarantine and COVID-19 prevention, the exam may be organized online).
For more information, please contact KSU Director of Business Deimantė Žilinskienė, e-mail: deimante.zilinskiene@ksu.lt
BACK